This listing has ended.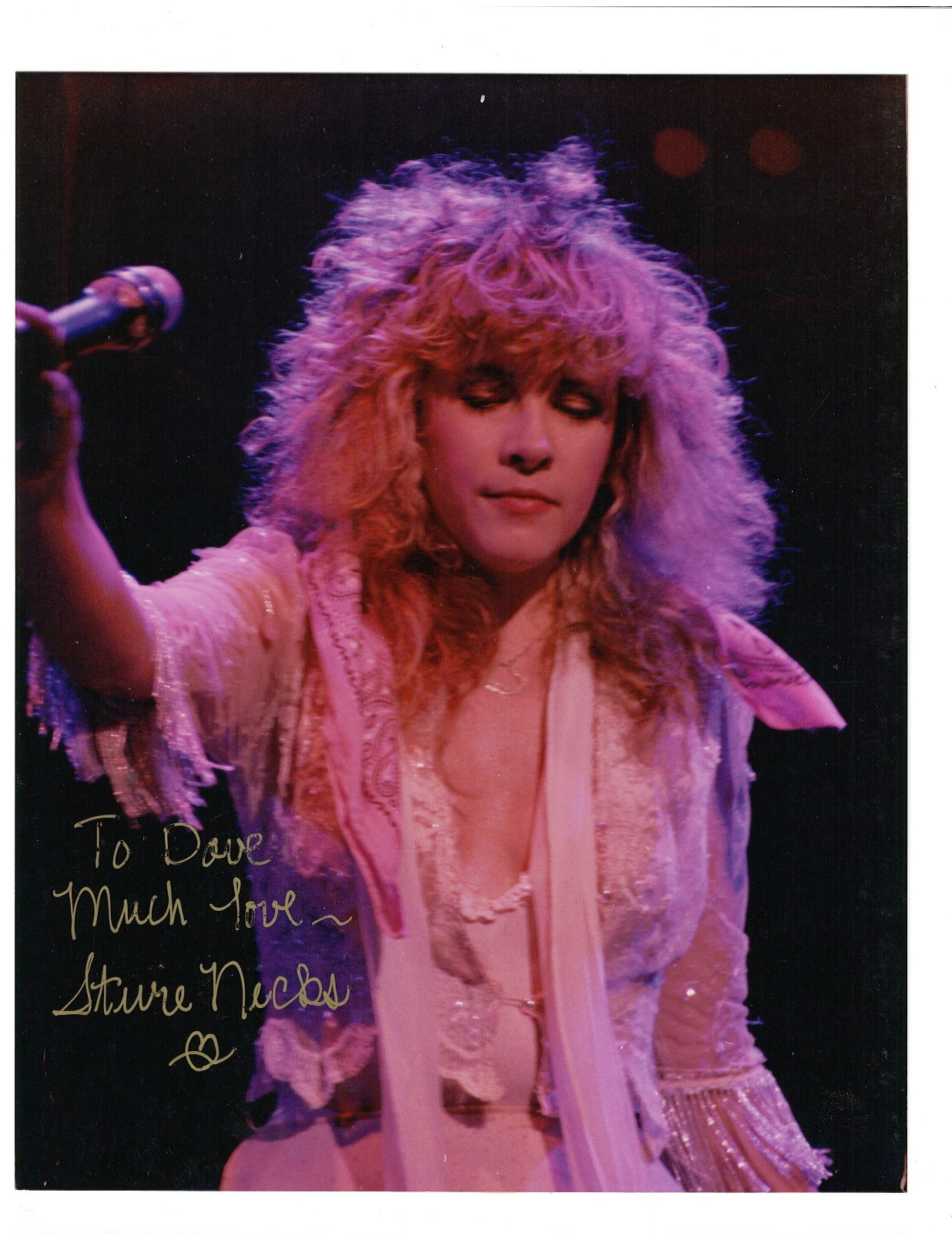 Similar items you may be interested in
Entertainment Memorabilia > Autographs-Original > Music > Rock & Pop > Photographs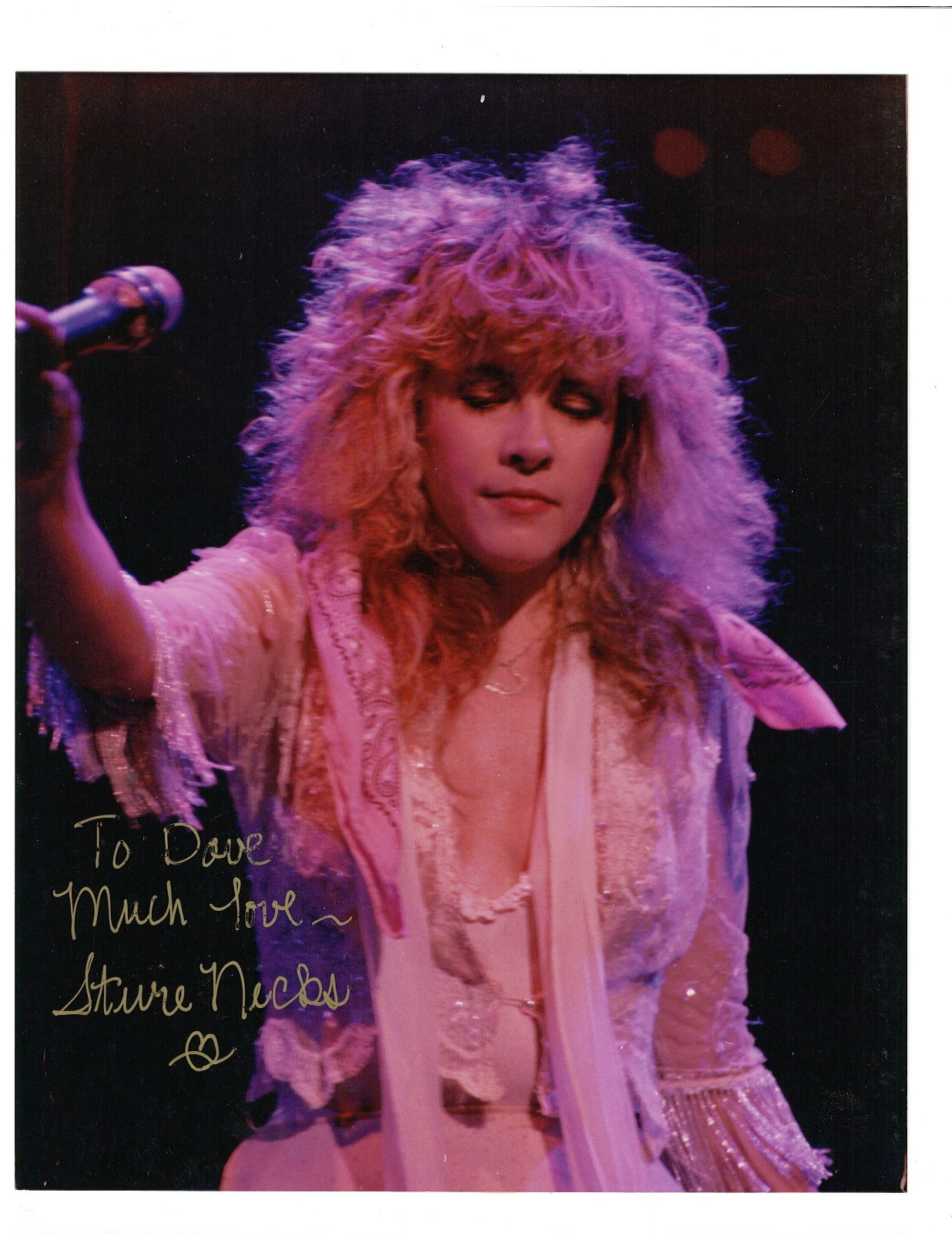 Similar items you may be interested in
Description
Young STEVIE NICKS * SIGNED * Color Concert Photo 8x10 FLEETWOOD MAC ERA Inscribed & Signed "To Dave Much Love Stevie Nicks"Fleetwood Mac Year Photo Stephanie Lynn "Stevie" Nicks (born May 26, 1948)[1] is an American singer-songwriter who is often regarded as the Queen of Rock n Roll.Nicks is best known for her work as the front-woman of Fleetwood Mac and for her chart-topping solo career.

She is known for her distinctive voice, mystical visual style, and symbolic lyrics.[2] Collectively, her work both as a member of Fleetwood Mac and as a solo artist has produced over 40 top-50 hits and sold over 140 million records, making her one of the best selling music acts of all time with Fleetwood Mac.Her influence in fashion, music and musical performance is widely acknowledged and as such, she has been named one of musics top 55 "Greatest Songwriters of All Time",[3] and as one of the worlds top "100 Greatest Singers of All Time" by Rolling Stone.[4] As a member of Fleetwood Mac, she was inducted into the Rock and Roll Hall of Fame in 1998. She has garnered eight Grammy Award[5] nominations and two American Music Award nominations as a solo artist.

She has won numerous awards with Fleetwood Mac, including a Grammy Award and five Grammy Award nominations.Nicks joined Fleetwood Mac in 1975 along with her then boyfriend, Lindsey Buckingham.

Rumours, Fleetwood Macs second album after the incorporation of Nicks and Buckingham, was the best-selling album of the year of its release, and to date, has made sales of over 40 million copies worldwide, making it the fifth-highest selling studio album of all time.

The album remained at number one on the American albums chart for 31 weeks and reached Number One in various countries worldwide.

The album won the Grammy Award for Album of the Year in 1978. it produced four U.S. top-10 singles, with Nicks "Dreams" being the bands first and only U.S. number-one hit.In 1981, while remaining a member of Fleetwood Mac, Nicks began her solo career, releasing the album Bella Donna, which topped the Billboard album charts and reached platinum status less than three months after its release, and has since been certified quadruple-platinum.[6] She has released a total of eight solo studio albums to date, with her most recent titled 24 Karat Gold: Songs from the Vault, released in October 2014. During her solo career, she has had a close working relationship with Tom Petty and the Heartbreakers.

They served as a backing band for several tracks on each of her solo albums, and the two have toured and performed together frequently over the past three decades.

The song "Stop Draggin My Heart Around", performed by Nicks and Petty, was one of the biggest hits for either artist.

Fleetwood Mac are a British-American rock band, formed in London in 1967. The band has sold more than 100 million records worldwide, making them one of the worlds best-selling bands of all time.

In 1998, selected members of Fleetwood Mac were inducted into the Rock and Roll Hall of Fame, and received the Brit Award for Outstanding Contribution to Music.[5]The two most successful periods for the band were during the late 1960s British blues boom, when they were led by guitarist Peter Green and achieved a UK number one with "Albatross" [6] and from 1975 to 1987, as a more pop-oriented act, featuring Christine McVie, Lindsey Buckingham and Stevie Nicks.

Rumours (1977), Fleetwood Macs second album after the incorporation of Buckingham and Nicks, produced four US Top 10 singles and remained at No. 1 on the American albums chart for 31 weeks, as well as reaching the top spot in various countries around the world.

To date, the album has sold over 40 million copies worldwide, making it the eighth-highest-selling album of all time.

The band achieved more modest success between 1971 and 1974, when the line-up included Bob Welch, during the 1990s in between the departure and return of Nicks and Buckingham, and during the 2000s when Christine McVie was absent.Due to numerous lineup changes, the only original member present in the band is drummer Mick Fleetwood.

Although band founder Green named the group by combining the surnames of two of his former bandmates (Fleetwood and McVie) from John Mayalls Bluesbreakers, bassist John McVie played neither on their first single nor at their first concerts, as he initially decided to stay with Mayall.

Keyboardist Christine McVie, who joined the band in 1970 while married to John McVie, has appeared on every album except the debut album, either as a member or as a session musician.

She left the band in 1998 but returned in 2014.