This listing has ended.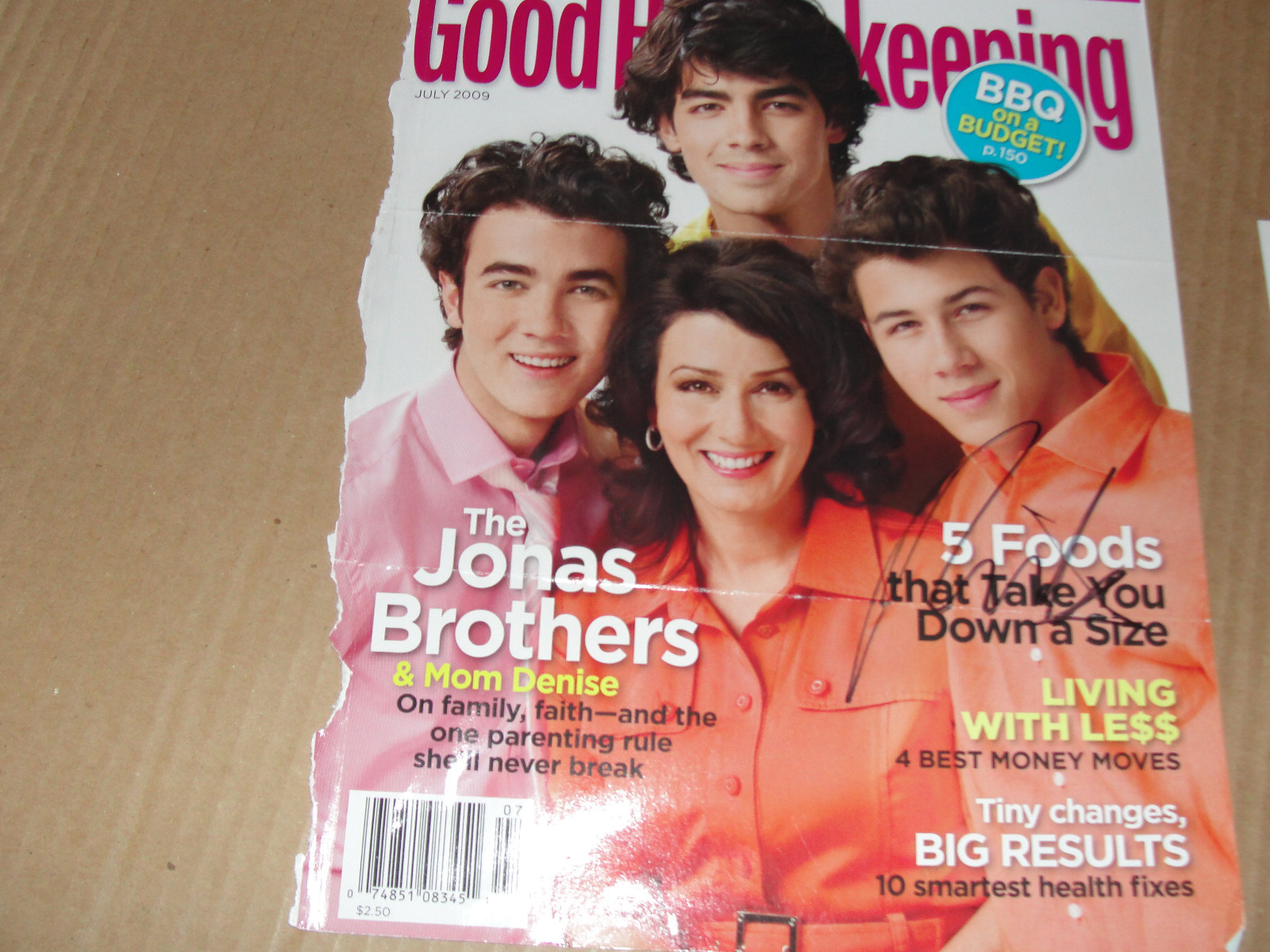 Similar items you may be interested in
Entertainment Memorabilia > Autographs-Original > Music > Rock & Pop > Photographs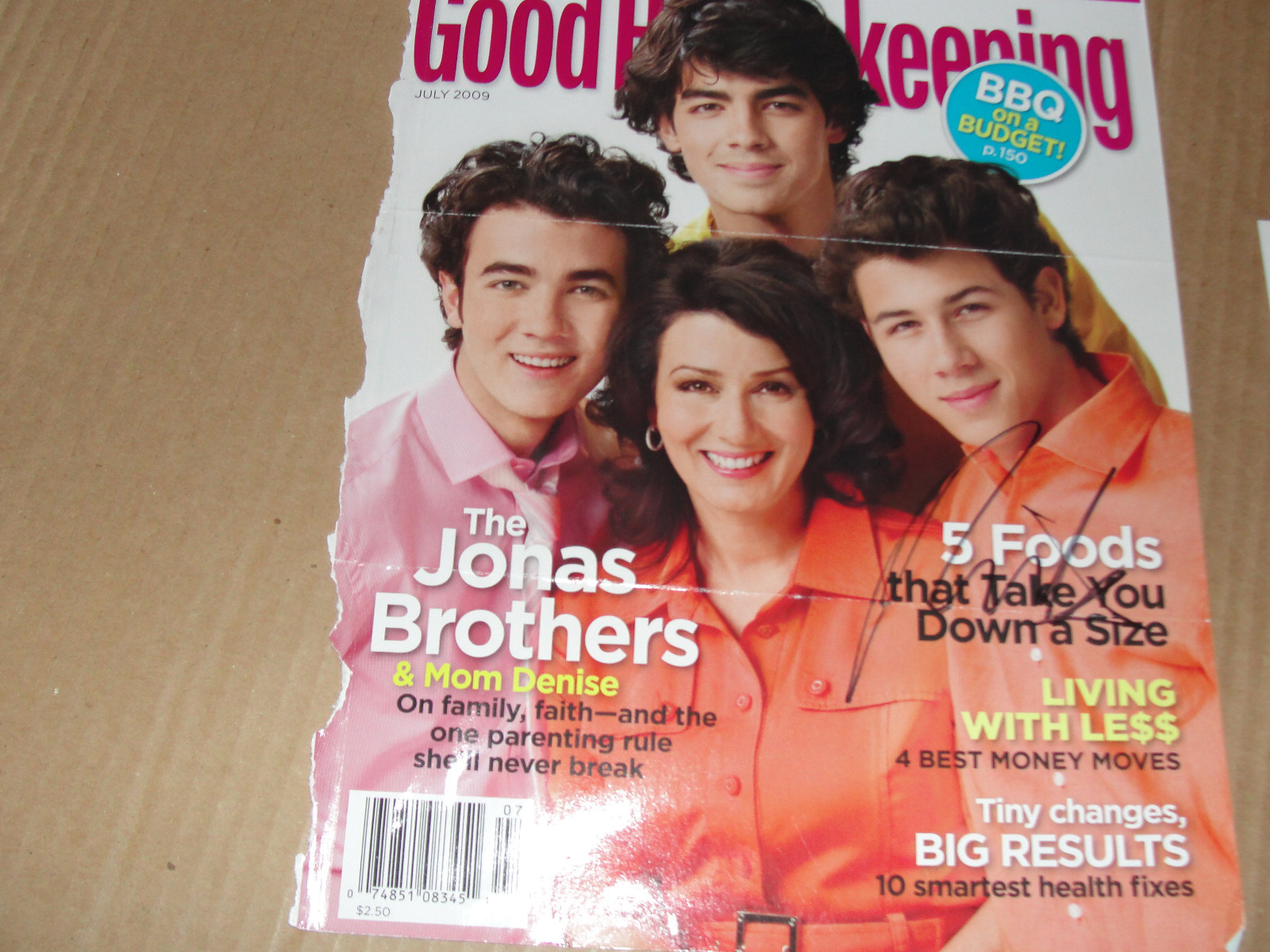 Similar items you may be interested in
Description
Nick Jonas signed autograph approx. 8x10 magazine page photo with COA.

One chance at this one of a kind flawless autograph.

A good quality photo.

Hand Signed - not a reprint.- estate sale.

High gloss- tough to get a good non-glare photo- beautiful photo.

Nicholas Jerry "Nick" Jonas (born September 16, 1992)[1] is an American singer, songwriter, producer, and actor.

Jonas began acting in theater at the age of seven, and released his debut single in 2002. He released his eponymous debut album in 2004 to little success, though it did catch the attention of Columbia Records.

Jonas opted to form a band with his older brothers, Joe and Kevin, known as the Jonas Brothers.

The group released their debut studio album Its About Time through Columbia Records.

The record failed to achieve commercial success, thus the group parted ways with their label.

Their self-titled second studio album was released through Hollywood Records in 2007, and became their breakthrough record.

The band became prominent figures on the Disney Channel during this time, gaining a large following through the network.

The band starred in the widely successful film Camp Rock (2008). Normal 0 false false false EN-US X-NONE X-NONE If there is ever and issue with the listing contact me via email.

PLEASE NOTE: APPROX. 95% OF MY LISTINGS ARE SOLD WITH ONE BID- NO NEED TO WATCH AND FORGET- GOOD CHANCE YOU WILL WIN THE ITEM WITH ONE BID.

IF YOU WANT THE ITEM BID NOW.

Read online on how to Remove inscriptions from photos.

PLEASE REVIEW MY IF YOU HAVE A CONCERN ABOUT authenticity- OR PACKING OR SPEED- I WILL WORK WITH YOU ANY ISSUES- No RP.

I have Tracking on all Items- Just Ask if you are concerned about time it is taking. to CANADA $3.25- DO NOT PAY THE INVOICE AND I WILL CHANGE THE AMOUNT EBAY PUT IN TO $3.25 or slightly more for additional items.. COMBINED : if you buy one item or 10 items I keep shipping costs roughly the same.. I find the little extra packing for each one raises it only slightly.. IF one item is $3.50 Shipping and 10 items that cost $60 may cost $3.75 shipping (only a slight rise with extra packing).. combined shipping means little change in shipping with each purchase.. the easiest way for me to combine your shipping is not to pay for the items until all are auctions you want are done, then hit paynow and there is a box that says request new total for shipping.. I can then change the shipping cost back down to around one item cost for shipping . NOTE: Ebay opens an unpaid Case for non-payment after a few days without payment and a few days after that the unpaid item case if logged against the buyer feedback and the item sale is cancelled and then I relist it.

I will not adjust that process Ebay invokes.

For "BUY IT NOW" items- all OFFERS considered and appreciated.. I will reply and if declined will state a LOW PRICE the item can be purchased for.

HAND SIGNED- NO REPRINT Autograph sale- low prices For items Shipping at = .99 cents - means No tracking- No packing (beyond extra index cards for some support- it must remain flexible for postal to accept the low price regular mail)- you can always ask me to change to $3.00 shipping with Packing if you are concerned or need Tracking.... just do not pay until you request a change in invoice and I send the new one...